English Bay
1800 Morton Avenue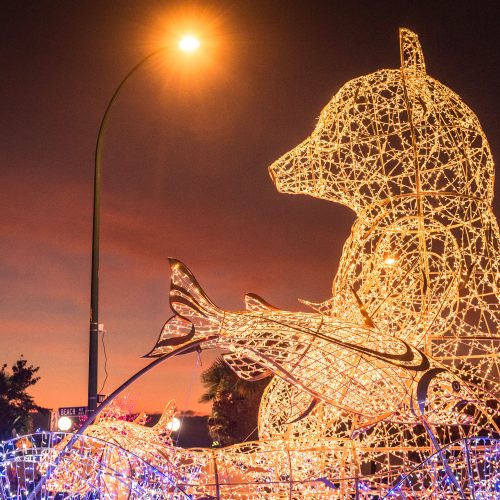 Standing at 24 foot tall, 'Davie' is a bright, inquisitive and playful grizzly bear. He joins a series of other nature inspired art works at English Bay that pay homage to BC's wilderness. Davie hopes to shine a light on the story of BC's grizzlies. If you would like to become a Grizzly Guardian please visit www.grizzlybearfoundation.com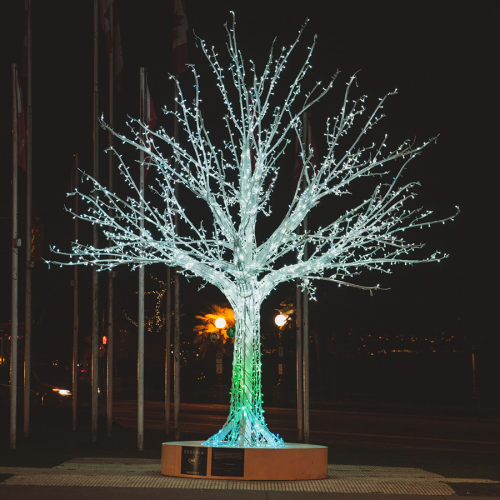 Eugenia, pays homage to an iconic oak tree that has decorated the English Bay skyline for three decades, on top of the famous Beach Avenue residency, Eugenia Place. This installation is made from aluminum and is filled with 7600 colour changing LED mini lights. Note: Eugenia will remain on display until February 2020.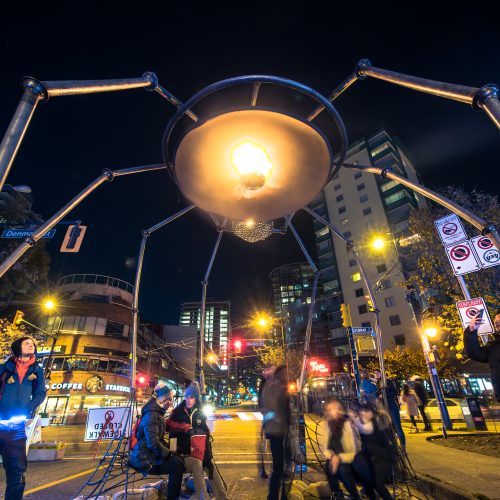 Created in 2014, Brood has been constantly evolving as part of the local interactive arts movement core. She embodies the dark sacred protective feminine. Simple in design, built mostly from scrap, and mobile, Brood steps into the practical sense that art should be lived and experienced. The space she creates is both contained and open, inviting and challenging.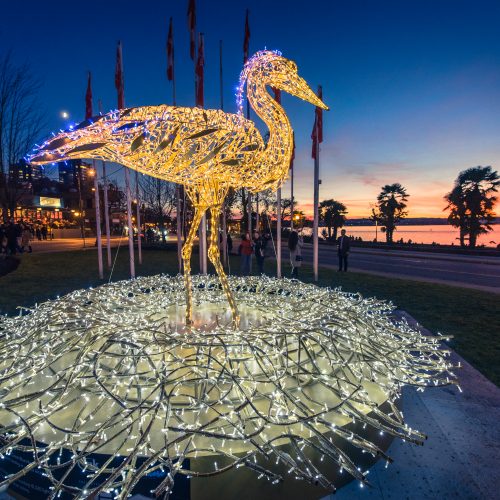 Stanley Park is home to one of the largest urban Great Blue Heron colonies in North America. These majestic birds have been nesting in various locations in Stanley Park as far back as 1921.In November 2018, "Stanley" will complete the lighting trifecta at English Bay. Created by MK Illumination, standing 13 feet tall and boasting 10,320 lights, Stanley pays tribute to Stanley Park's Great Blue Heron colony. Note: Stanley will remain on display until February 2020.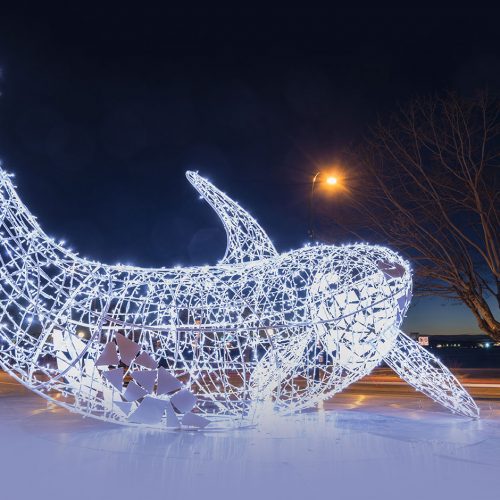 Returning for the fifth year, Luna was created by world-renowned decorative lighting experts MK Illumination. A bespoke one-off design, Luna was made specifically for Lumiere in recognition to the whales in the waters around Vancouver.Luna is named after the well-known orphaned orca whale that inhabited the waters of the Nootka Sound from 2001 to 2006. Separated from his mother at a young age, he spent five years delighting tourists and residents alike off the coast of Vancouver Island.The white powder-coated frame is 7 meters long by 2.5 meters high and contains over 6,000 LED white environmentally friendly bulbs.Note: Luna will be on display until February 2020.
Jim Deva Plaza
1200 Bute Street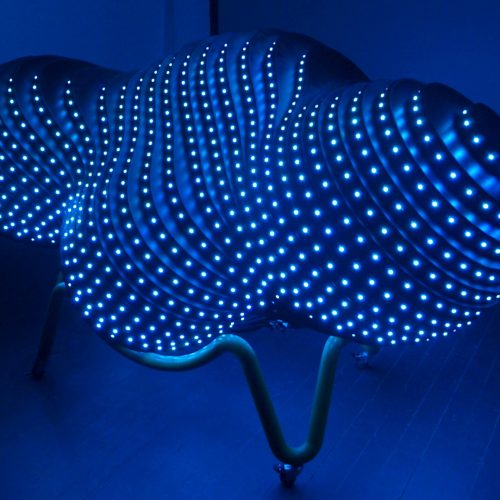 Commissioned by Toronto International Film Festival (TIFF) for digiPlaySpace, interactive sculpture Visitor displayed at TIFF Bell Lightbox cultural centre in Toronto, Ontario and then continued on a world tour at interactive cultural centres. Covered in hundreds of responsive LEDs and also proximity sensors, Visitor invites kids to interact, discover its possibilities, figure out where it came from and learn what it is trying to tell us.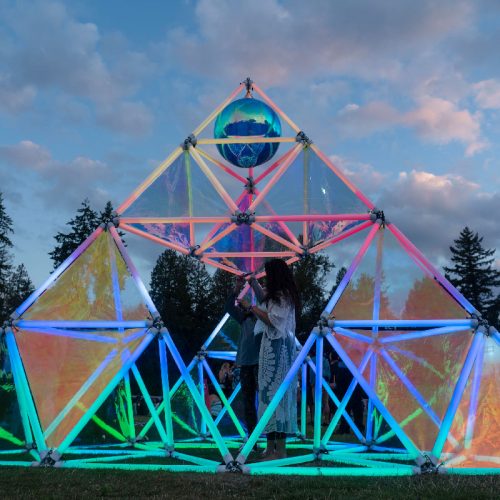 TETRA is a geometric lighting installation which uses public data to generate ambiently create colour patterns.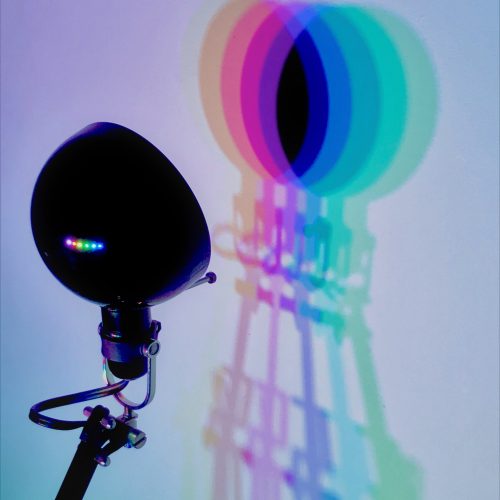 Chromatic Shadows aims to mimic the colourful distortions that occur when a lens fails to focus all colours of light onto the same spot. In this installation you are the art: simply step in front of the screen and create colourful shadow art on the walls!This interactive installation offers a playful setting for the public to engage with light first hand. As soon as someone walks into the light, the drab white lit surface erupts into a colourful spectacle. By creating a corridor for people to pass through, this installation hopes to invoke a sense of curiosity and wonder. As visitors pass through this space they will discover that they are the ones who animate the space with art and make it come alive with colours and movement.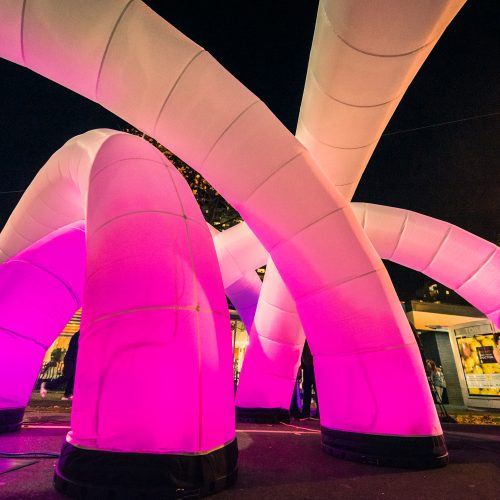 Woven is a series of large archways, unified into one beautiful structure with playful light patterns that hop from arch to arch as you walk beneath them.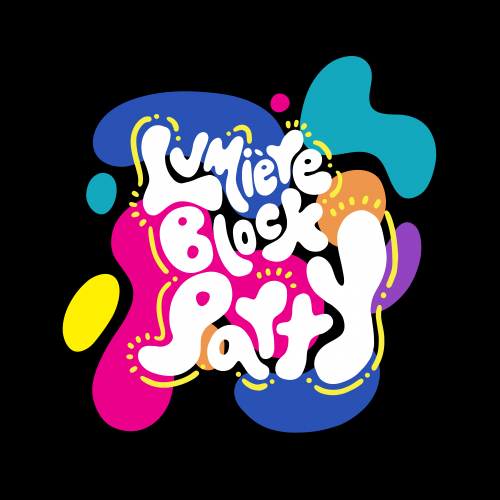 Public Disco is bringing you a licensed 3-day block party in the Davie Village!Enjoy DJs, drag shows, dance performances, visual art and a licensed bar under a massive 80 ft tent!• Free & All Ages• Bar featuring Stanley Park Brewing, Lonetree Cider & Nude Vodka Soda• DJ equipment sponsored by Tom Lee Music Canada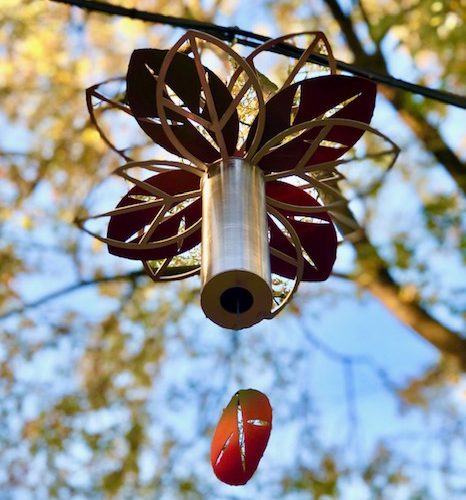 Have you experienced the feeling of passing through a noisy, busy urban street in Downtown Vancouver, head tucked and earphones in your ears? Amidst the commotion of our growing urban environment, we often miss the little elements that make up our city – the smell of the trees after a rainy day, the sound of birds chirping at dawn, the smell of freshly baked bread from our local baker across the street. Have we become so busy that the little things no longer matter?Whirling Chimes is an installation that comes with a request: a request to pause, observe, and listen to the ephemeral experiences hidden within our urban realm. As a visual and audible performance facilitated by wind and rain, and a design inspired by nature and beauty, Whirling Chimes take an integrative approach to multi-sensual design within an urban fabric.We invite you to pass by and enjoy the show, and we hope our installation inspires you to look for more hidden experiences in our beautiful city.
Lot 19
855 West Hastings Street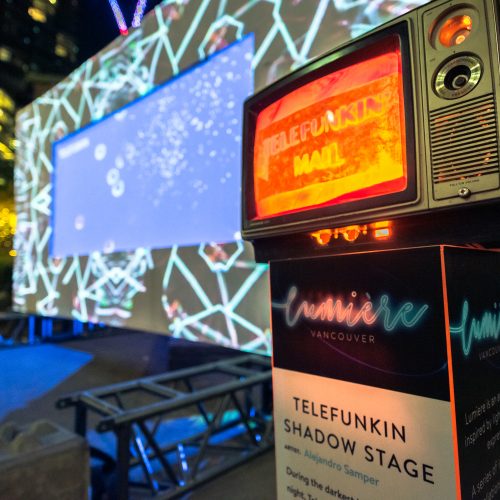 During the darkest hours of the night, Telefunkin' invites participants to step behind the TV and have their silhouettes projected on the screen to be seen by the viewers at the front. Elaborate projection-mapped visuals will convert the entire stage itself into a psychedelic experience come to life. Participants are encouraged to go wild with their imagination and create interesting, funny, or mesmerizing displays for the audience.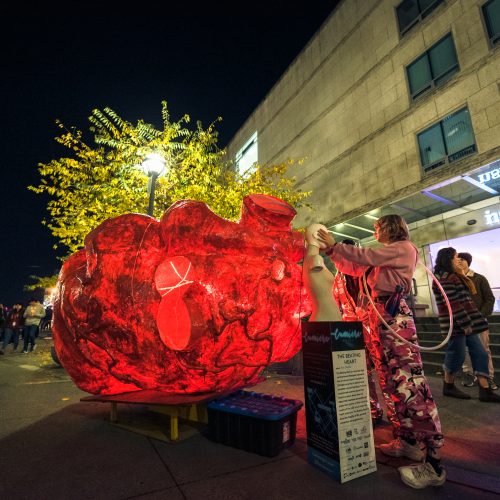 The Beating Heart is about the fragility of life, personal connection and togetherness. The Beating Heart is a nine-foot-high red translucent fiberglass representation of a human heart It includes an LED light array that in default mode simulates a human heartbeat. In its advanced mode a person places their hand on a sensor device that will detect their heartbeat and amplify and project the rhythm of their heart by means the LED array inside the heart sculpture.The Beating Heat sculpture originally was a Burning Man artifact which I rescued. It weighs about 250 lb. and made of half-inch thick reinforced fiberglass polyester resin.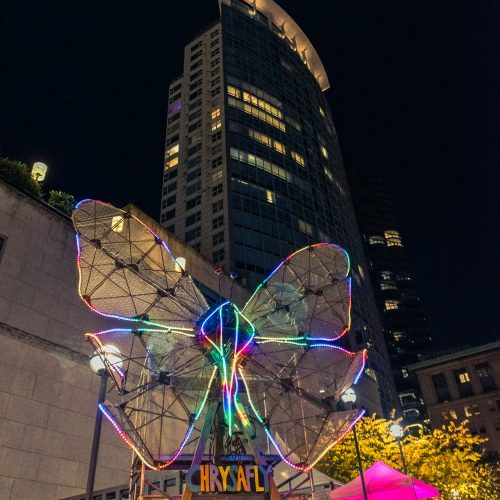 Chrysafly is an animatronic steel butterfly that transforms from a chrysalis into a butterfly, and back again. Part mental health project, part community-building exercise, and totally all-consuming art project. Chrysafly is an external reflection of some of the internal changes and journeys we embark on to grow, develop and transform. Much like the way a caterpillar makes a transformation into a bigger, better version of itself. The wings of the butterfly are already held inside the caterpillar, and as it breaks down its old self into goo the wings emerge ready to go. That process is amazing and teaches me that as we change and transform, we also have everything we need already right inside of us. Sometimes we just need reminding.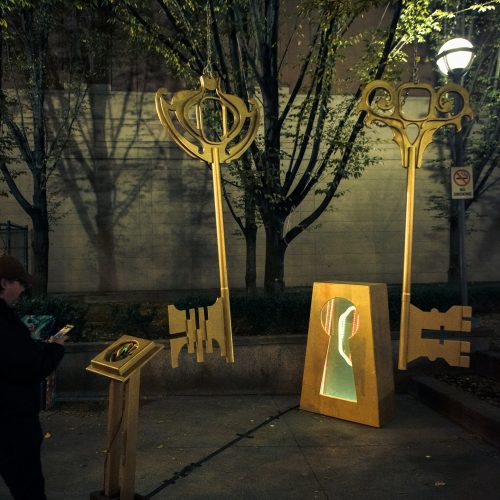 "Key to My Heart" is built to represent two giant antique skeleton keys and lock. The keys are built to look like antique gold unique keys with beautiful intricate details. Each key gives you a feel that it comes with a history all of its own. The keys are made from plywood, recycled rocking chairs, and PVC piping. They will be suspended in the trees, using steel cable and ratchet straps. The lock is an infinity mirror made from plywood, LED lights and plexiglass mirror."Key to My Heart" also offers an interactive element, by allowing participants to lights to change to sync with their heartbeat, located within the lock. Located near the lock will be a pedestal, on which there will be a mold with an imprint of a hand. Participants will place their hand in the mold. A pulse sensor in the mold detects the participant's heartbeat and the lighting of the infinity mirror will sync and flash to the participant's pulse.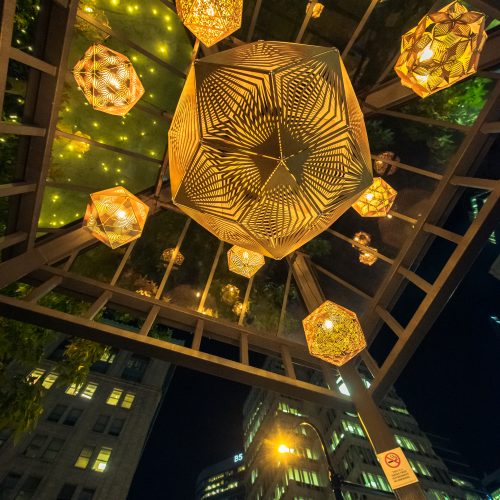 Lux Memoriae ("Light Memory") is a collection of large and medium scale geometric lanterns designed by Ari Lazer. Each lantern is designed to explore harmonic form as it arises in nature or through fundamental principles of space. Presented together, viewers are invited into the hanging installation to uncover a world of shadow and illumination, glow and unfolded form.
šxʷƛ̓ənəq Xwtl'e7énḵ Square
750 Hornby Street (Vancouver Art Gallery)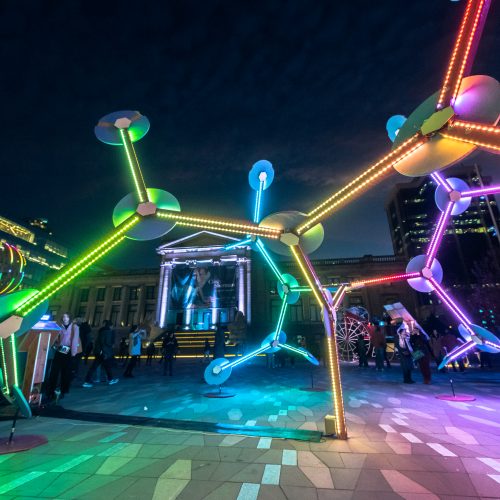 Reality is not a straight line. It's a branching tree of alternatives where everything that can happen, does. Alternity is about the future, how everyday decisions determine our path through an infinity of possible worlds. Its interactive element emphasizes our ability to shape these worlds.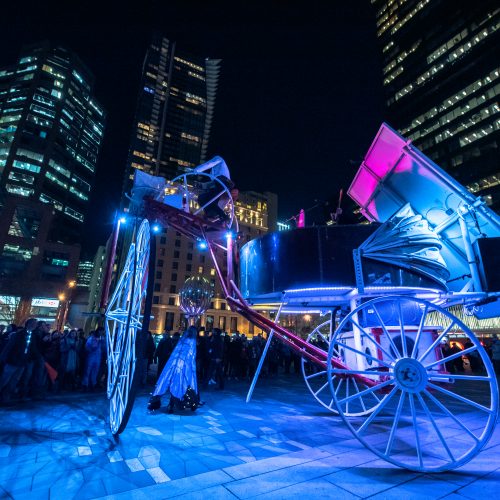 Daisy is the world's largest solar-powered tricycle. Built-in California by master inventor Bob Schneeveis in 2002, she has been cared for by the eatART Foundation in Vancouver since its inception in 2007. Daisy has toured extensively through the years, attending science fairs, arts festivals, parades, and schools across North America. Her carriage has room for many friends, and she is always happy to stop to pick up one more. Since the beginning of this year, Sam Carter and Emily Cheung have been performing opera aboard Daisy using her carriage as a stage as they begin taking steps towards the production of a traveling mechanical circus.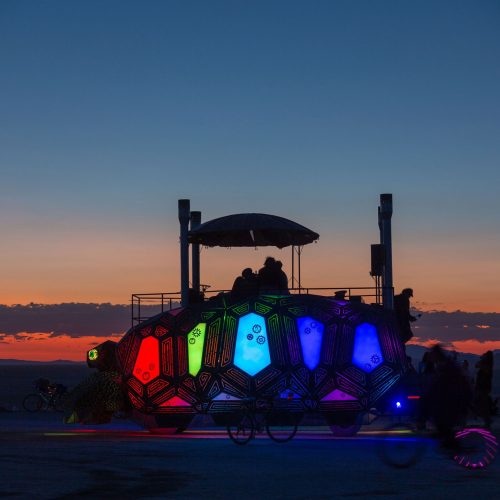 Hippo Love Creative Art Society are a group of makers and creators brought together over the love of big art. They especially love big art that shoots fire! They are a diverse team with expertise ranging from metal fabrication, woodworking and electronics to makeup, event planning and spreadsheets. Team members have collaborated on projects such as Hippo Love Mutant Vehicle, Efflorescence fire flower by the Blazin Lily Gals, BeeLoved wooden temple, the Phoenix Rainbow and many more. Drawing inspiration from their untamed imaginations and a good bottle of wine they have come together to bring to life Steely T, their newest and baddest creation yet!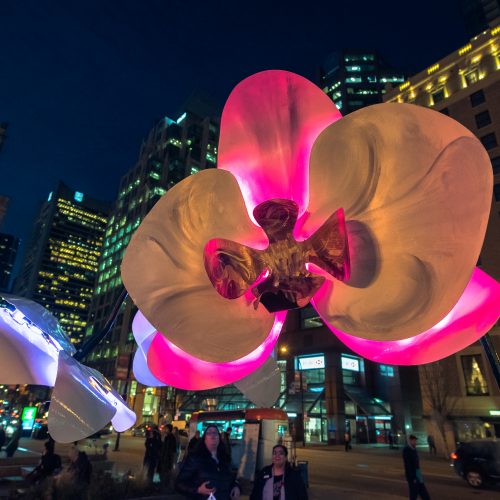 Orchidelirium is a larger-than-life fantastical steel orchid plant, sprouting from the concrete and arcing over the heads of her viewers. Participants are invited to customize the sculpture's aesthetic to their whims using interactive touchpads linked via the plant's roots to the colorfully illuminated flowers above.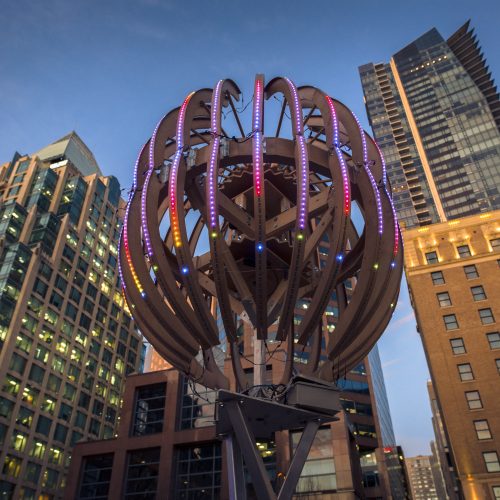 Segmentium is a kinetic art installation. It consists of a 7 ft diameter ball, made up of 24 vertical segments. Each segment is divided and hinged at the equator. The ends of the segments at the poles are attached to a wheel that moves in an eccentric motion. The speed and direction of the rotating wheel are computer-controlled and responsive to the ambient temperature. This represents a connection to the outside environment.The top and bottom halves move independently, at varying speeds and directions. This gives the effect of the sphere wobbling and undulating. It will have the appearance of being semi-solid.The segments are made of wood. The internal frame of the ball is made of aluminum and wood.The outside edge of each segment will be lined with LED strip lighting. The lighting patterns will be responsive to sound and light. The lighting patterns will also respond to the movement of the segments.The 7 ft diameter ball will be mounted on top of a 10 ft tall tripod base made of aluminum.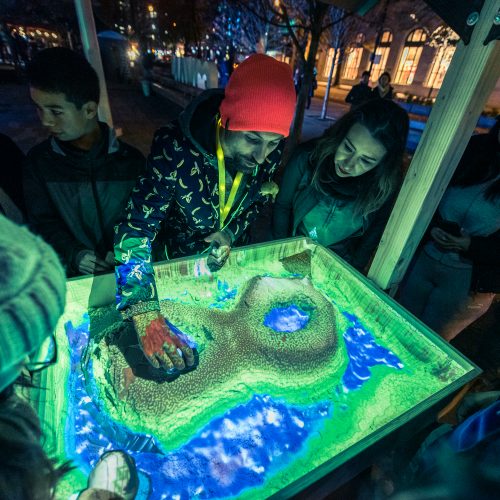 From Light and Cosmic Dust all things are made. Through the prism of your mind explore and transform worlds from alternate realities, where light and water react in unique ways. Seed the landscape you create with life and watch it grow. Will life thrive or perish in floods or droughts that you control? In the hills, valleys, rivers and lakes that you sculpt with your own hands? Bring your curiosity and imagination and explore these possibilities with AR Sandscapes.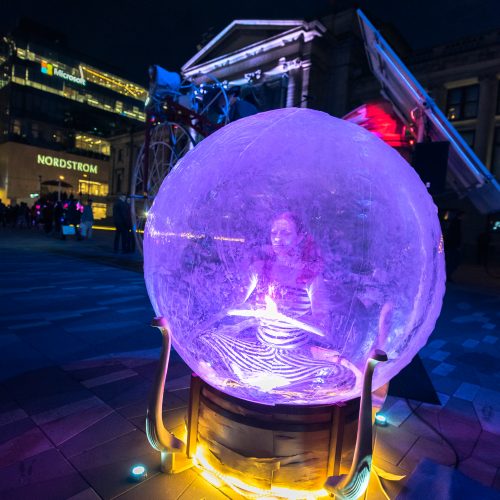 A long round time ago, in the year of 2019, a spherical sculpture composed of found objects and internet procurements became an enlightened container for transformational courage. Have a turn to send a message through the globe.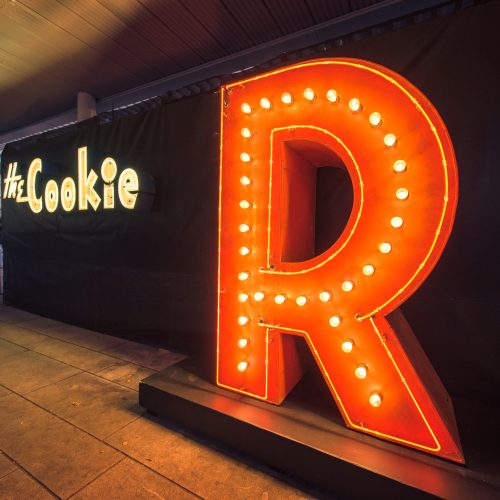 QuadReal Property Group has announced a partnership with the Museum of Vancouver to bring back to life some of the classic neon signs that lit up Vancouver in the middle of the last century. Three of these signs will be unveiled at the Lumiere festival before permanently lighting up public spaces at The Post, one of the most ambitious heritage redevelopment projects in Canada's history taking shape at the site of the former Canada Post building in downtown Vancouver.Vancouver was once home to an estimated 19,000 neon signs, second only to Las Vegas at the time. Vancouverites saw the glowing signs as glamourous and exciting while at the same time tawdry and garish, putting them at the centre of intense debates. City leaders clamoured to have them restricted or removed, which resulted in many of the legendary signs being left to rust in scrap heaps. Some of these signs have since been rescued and found their way into the collection at the Museum of Vancouver.The restored neon signs will be on display from November 1 – 3 at šxʷƛ̓ənəq Xwtl'e7énḵ Square, formerly the North Plaza of the Vancouver Art Gallery, during Lumiere. Signs will move to The Post for final installation as the project nears completion in late 2022.