English Bay
1800 Morton Avenue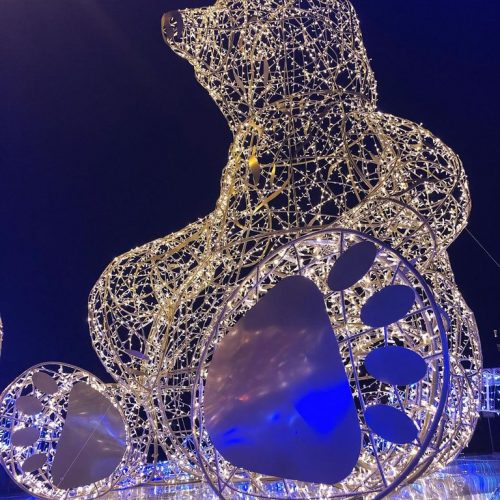 Standing at 24 foot tall, 'Davie' is a bright, inquisitive and playful grizzly bear. He joins a series of other nature inspired art works at English Bay that pay homage to BC's wilderness. Davie hopes to shine a light on the story of BC's grizzlies. If you would like to become a Grizzly Guardian please visit www.grizzlybearfoundation.com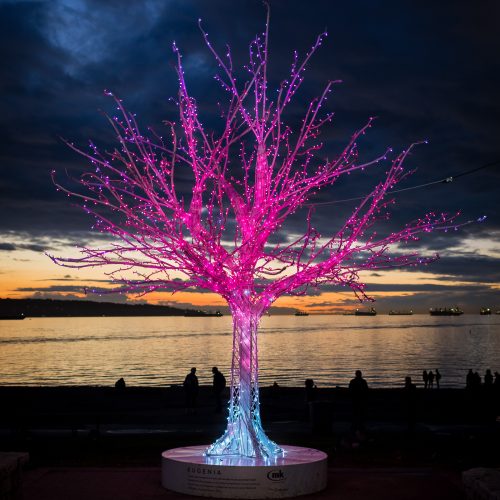 November 2021 to February 2022
Eugenia, pays homage to an iconic oak tree that has decorated the English Bay skyline for three decades, on top of the famous Beach Avenue residency, Eugenia Place. This installation is made from aluminum and is filled with 7600 colour changing LED mini lights.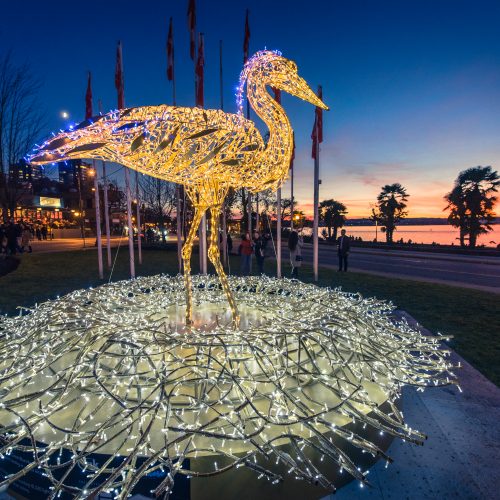 Proudly Presented by Stanley Park Brewing
November 2021 to February 2022
Stanley Park is home to one of the largest urban Great Blue Heron colonies in North America. These majestic birds have been nesting in various locations in Stanley Park as far back as 1921.In November 2018, "Stanley" will complete the lighting trifecta at English Bay. Created by MK Illumination, standing 13 feet tall and boasting 10,320 lights, Stanley pays tribute to Stanley Park's Great Blue Heron colony. Note: Stanley will remain on display until February 2022.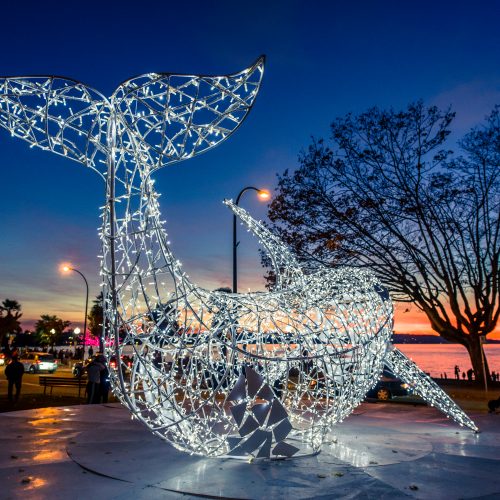 Proudly Presented by West End Business Improvement Area
November 2021 to February 2022
Returning for the sixth year, Luna was created by world-renowned decorative lighting experts MK Illumination. A bespoke one-off design, Luna was made specifically for Lumiere in recognition to the whales in the waters around Vancouver.Luna is named after the well-known orphaned orca whale that inhabited the waters of the Nootka Sound from 2001 to 2006. Separated from his mother at a young age, he spent five years delighting tourists and residents alike off the coast of Vancouver Island.The white powder-coated frame is 7 meters long by 2.5 meters high and contains over 6,000 LED white environmentally friendly bulbs. Note: Luna will be on display until February 2022.
Jim Deva Plaza
1200 Bute Street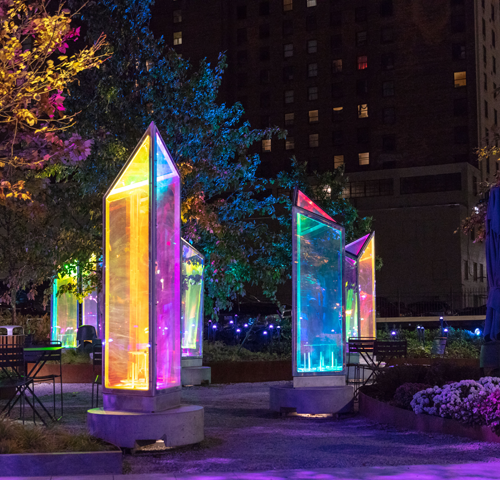 November 5, 2020 to November 19, 2020
Prismatica is an installation comprised of 50 pivoting prisms more than two metres tall, transforms the Place des Festivals into a giant kaleidoscope. The prisms are made of panels laminated with a dichronic film that transmits and reflects every colour in the visible spectrum, varying with the position of the light source and the observer. The prisms are mounted on bases containing projectors. As visitors wander among and manipulate the prisms, they will enjoy an infinite interplay of lights and colourful reflections. As the prisms rotate, a variable-intensity soundtrack comprised of bell sounds will play.
Prismatica was first presented as part of the 5th edition of Luminothérapie, in 2014-2015, at the Place des Festivals in the Quartier des Spectacles in Montreal.
THE CREATORS: A work by RAW Design. With Dix au Carré at the Sound design, ATOMIC3 and Jean-François Piché at the Lighting design and ATOMIC3 and Louis Héon at the Production and technical direction.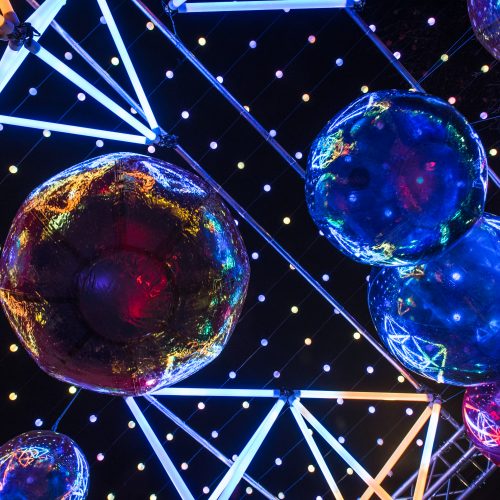 November 21, 2020 to November 30, 2020
The Future Promised by Virtual Reality
This piece manifests a material embodiment of the Information Superhighway, a dazzling world of neon geometry and altered chrome forming a virtual sky above.
Like the future itself, the components of the piece are just beyond reach, experienced by reflection, imagination and community, drawing us to the collective utopia formed by technology.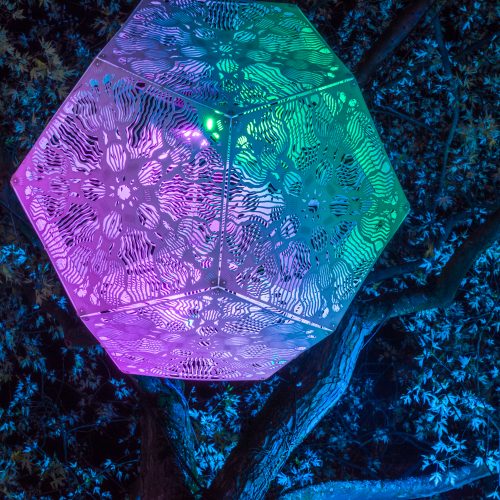 November 21, 2020 to November 30, 2020
Lux Memoriae ("Light Memory") is a collection of large and medium scale geometric lanterns designed by Ari Lazer.
Each lantern explores harmonic form as it arises in nature, or through fundamental principles of space. Attentive viewers may find natural features of our local landscape, such as the curling contours of the Fraser River and Vancouver's coastline, hidden in the ribbons of the lanterns' forms. Illuminated from within, the lanterns are designed to generate moiré patterns that create the illusion of dynamic movement, as the viewer moves in space around them.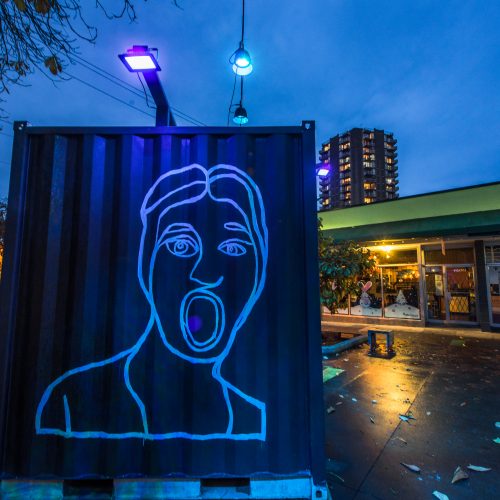 November 21, 2020 to November 30, 2020
Keep it together! Don't overreact! Contain yourself! We are all trying our best to be kind, be calm and be safe, but sometimes you just need to let it all out. West End artists Ashley Guindon and Deanna Flinn invite you to express yourself at Lumiere Festival by sharing your excitement, sadness, silliness, or frustration. Their interactive mural will inspire you to let loose and see things from a new perspective (in a pandemic-safe way, of course!)
Bios:
Ashley Guindon is a creative practitioner who is equal parts artist, project manager, and pedagogue. Since moving to Vancouver's West End in 2011, she has produced over 50 public art projects across the Lower Mainland. Ashley creates opportunities for students and emerging artists and develops innovative projects with lasting environmental, social, and cultural impact. ([email protected])
Deanna Flinn is a multidisciplinary artist living in the West End and has called Vancouver home for over 15 years. Deanna began taking photos at age 12, is an editorial and portrait photographer, and in 2010 started using her photos as inspiration for her continuous line drawings. Recently she has translated her work into murals and community-engaged art installations. (freeadmission.ca, @freeadmission)