English Bay
1800 Morton Avenue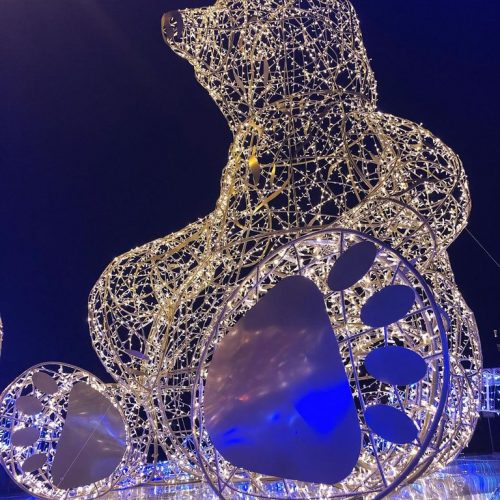 Standing at 24 foot tall, 'Davie' is a bright, inquisitive and playful grizzly bear. He joins a series of other nature inspired art works at English Bay that pay homage to BC's wilderness. Davie hopes to shine a light on the story of BC's grizzlies. If you would like to become a Grizzly Guardian please visit www.grizzlybearfoundation.com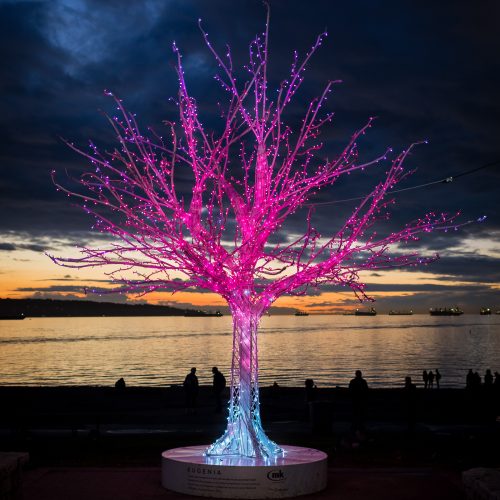 November 2021 to February 2022
Eugenia, pays homage to an iconic oak tree that has decorated the English Bay skyline for three decades, on top of the famous Beach Avenue residency, Eugenia Place. This installation is made from aluminum and is filled with 7600 colour changing LED mini lights.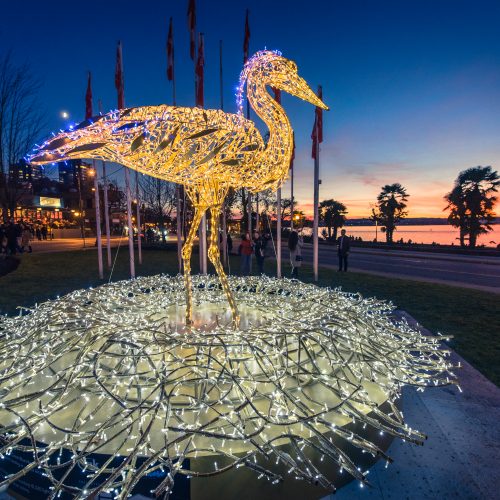 Proudly Presented by Stanley Park Brewing
November 2021 to February 2022
Stanley Park is home to one of the largest urban Great Blue Heron colonies in North America. These majestic birds have been nesting in various locations in Stanley Park as far back as 1921.In November 2018, "Stanley" will complete the lighting trifecta at English Bay. Created by MK Illumination, standing 13 feet tall and boasting 10,320 lights, Stanley pays tribute to Stanley Park's Great Blue Heron colony. Note: Stanley will remain on display until February 2022.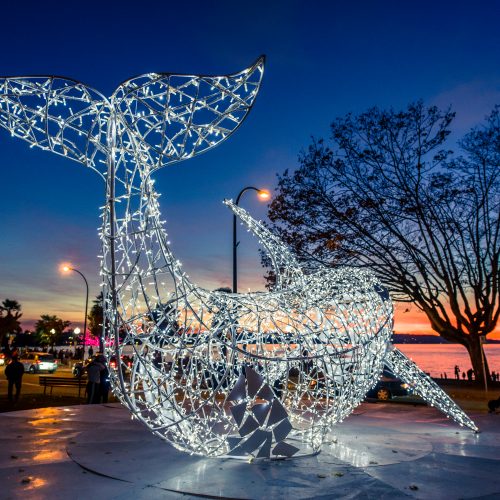 Proudly Presented by West End Business Improvement Area
November 2021 to February 2022
Returning for the sixth year, Luna was created by world-renowned decorative lighting experts MK Illumination. A bespoke one-off design, Luna was made specifically for Lumiere in recognition to the whales in the waters around Vancouver.Luna is named after the well-known orphaned orca whale that inhabited the waters of the Nootka Sound from 2001 to 2006. Separated from his mother at a young age, he spent five years delighting tourists and residents alike off the coast of Vancouver Island.The white powder-coated frame is 7 meters long by 2.5 meters high and contains over 6,000 LED white environmentally friendly bulbs. Note: Luna will be on display until February 2022.

Check back soon to learn more about our Site Presenters!
Interested in partnering with Lumiere YVR in 2021? Contact Us
Check back soon to learn more about our Lighting Partners!
Interested in partnering with Lumiere YVR in 2021? Contact Us
Check back soon to learn more about our Media Partners!
Interested in partnering with Lumiere YVR in 2021? Contact Us