English Bay
1800 Morton Avenue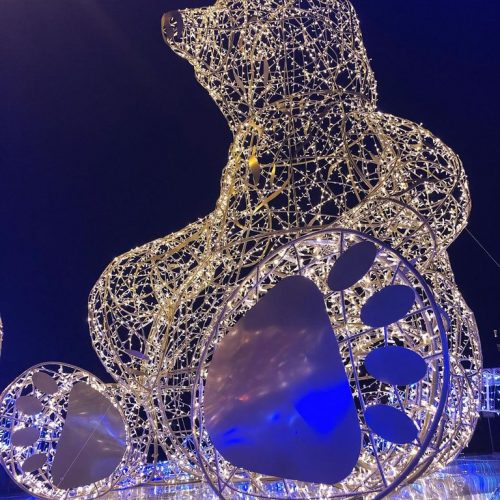 Standing at 24 foot tall, 'Davie' is a bright, inquisitive and playful grizzly bear. He joins a series of other nature inspired art works at English Bay that pay homage to BC's wilderness. Davie hopes to shine a light on the story of BC's grizzlies. If you would like to become a Grizzly Guardian please visit www.grizzlybearfoundation.com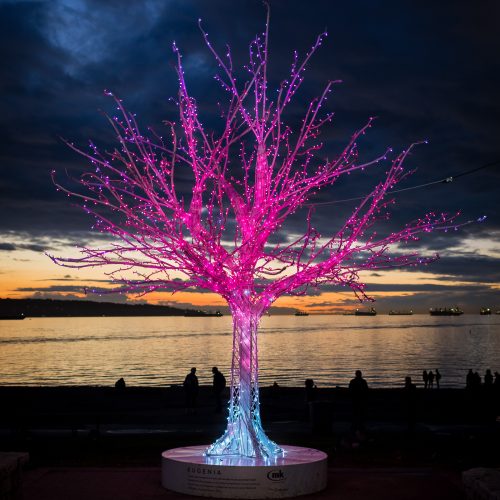 November 2021 to February 2022
Eugenia, pays homage to an iconic oak tree that has decorated the English Bay skyline for three decades, on top of the famous Beach Avenue residency, Eugenia Place. This installation is made from aluminum and is filled with 7600 colour changing LED mini lights.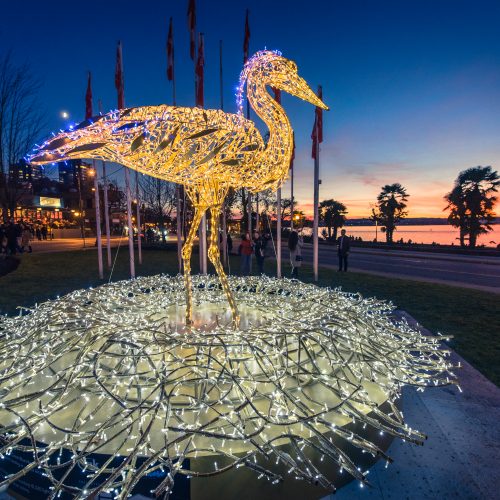 Proudly Presented by Stanley Park Brewing
November 2021 to February 2022
Stanley Park is home to one of the largest urban Great Blue Heron colonies in North America. These majestic birds have been nesting in various locations in Stanley Park as far back as 1921. Created by MK Illumination, standing 13 feet tall and boasting 10,320 lights, Stanley pays tribute to Stanley Park's Great Blue Heron colony. Note: Stanley will remain on display until February 2022.
Did you know? The Pacific Great Blue Heron is a sub-species of the Great Blue Heron and does not migrate. As this sub-species has difficulty finding undisturbed habitat and nesting sites, their population has declined across the province and it is considered a "species at risk" and listed as "special concern." The Stanley Park colony is one of the largest urban colonies in North America, and due to their "at risk" status, Stanley Park Ecology Society have conservation programs to help monitor and sustain this population.
Donate to SPES and support our wildlife monitoring work (which includes monitoring the Great Blue Heron colony) by clicking the link below!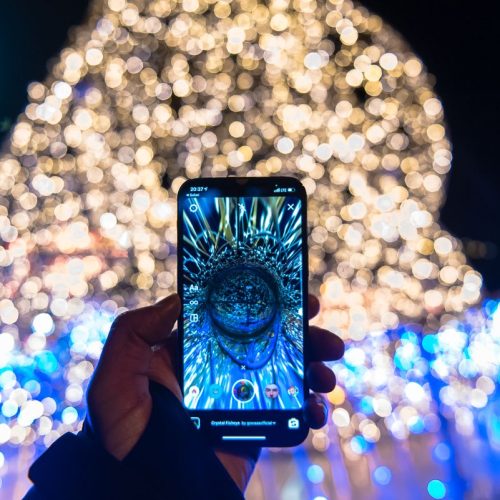 Watch Stanley the Heron and Davie the Bear come to life by scanning the QR code on site! Go2 Productions is based in Vancouver, BC, with representation on both US coasts, Go2 is a highly skilled team of multi-disciplined professionals. From 3D projection mapping to immersive environments, video and experiential projects, Go2 is focused on creatively using technology to design unforgettable experiences. Expertly weaving together art, soundscape and digital mastery, the award-winning team transforms physical spaces into magical events that thrill and inspire. Go2 brings screens, walls and buildings to life, as well as the boldest of ideas, exploring the artistic and technical that lands firmly on high-impact results. For more information, visit www.go2productions.com.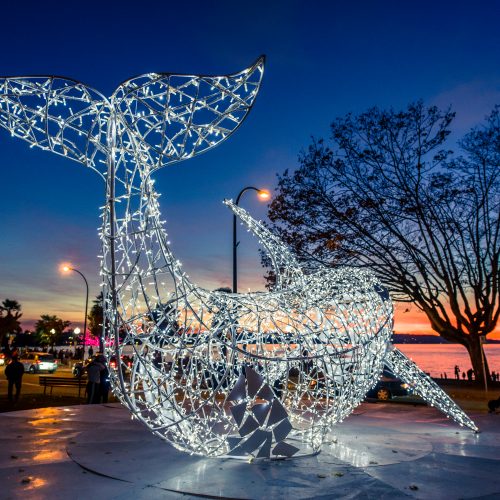 Proudly Presented by West End Business Improvement Area
November 2021 to February 2022
Returning for the seventh year, Luna was created by world-renowned decorative lighting experts MK Illumination. A bespoke one-off design, Luna was made specifically for Lumiere in recognition to the whales in the waters around Vancouver.Luna is named after the well-known orphaned orca whale that inhabited the waters of the Nootka Sound from 2001 to 2006. Separated from his mother at a young age, he spent five years delighting tourists and residents alike off the coast of Vancouver Island.The white powder-coated frame is 7 meters long by 2.5 meters high and contains over 6,000 LED white environmentally friendly bulbs. Note: Luna will be on display until February 2022.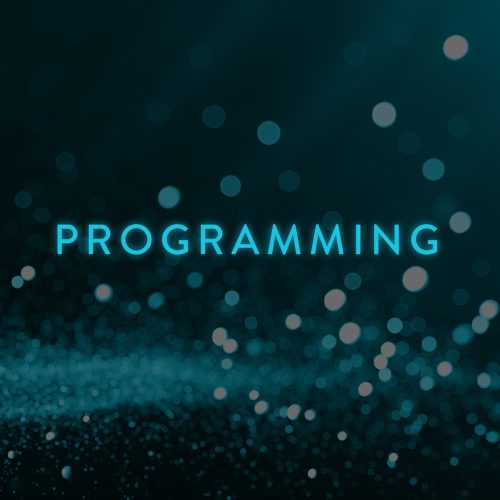 Programming at English Bay
Adam Bowen
Musician
Friday November 12, 7pm- 9pm
Ember Arts
Fire Performers
Saturday November 13, 7pm- 9pm
Alonzo Wang
Musician
Friday November 19, 7pm- 9pm
Ember Arts
Fire Performers
Saturday November 20, 7pm- 9pm
Quayside Voices
Choir
Friday November 26, 7pm- 9pm
Ember Arts
Fire Performers
Saturday November 27, 7pm- 9pm
Jim Deva Plaza
1200 Bute Street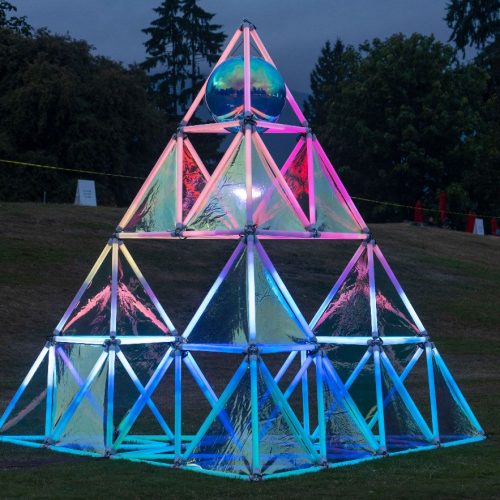 November 12, 2021 to November 30, 2021
Twin Harmonic Amplified Neuro-Knowledge Stimulator (T.H.A.N.K.S.) represents a quantum leap in active-illuminance positronic neural alignment technology. Utilizing cutting-edge duplex awareness induction, combined with our industry-standard hybrid polar-semi-cartesian virtual matrix structures, this device magnifies gratitude within its biphasic field radius (-/+10m).
In other words, this lighting activation is designed to amplify feelings of gratitude. The bright colours are reminiscent of sunsets, sweet treats, and daydreams. Every moment can be special if we choose it to be. THANKS gives us an opportunity to look around and realize how lucky we are.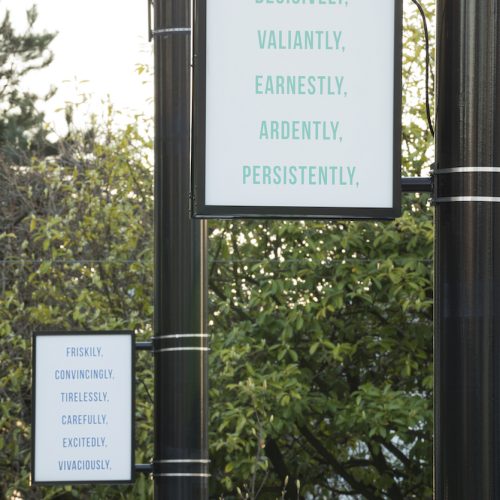 November 12, 2021 to November 30, 2021
Toronto-based artist Erdem Taşdelen's Postures in Protest, adapted for the Jim Deva Plaza in the form of six double-sided lightbox signs, comprises an assemblage of adverbs that describe the ways in which individuals stage protests in popular uprisings. These adverbs, as modifiers of verbs, indicate how specific actions transpire, pointing to the strength and fortitude of those involved in protest. Installed in a public site that is dedicated to the late Jim Deva, the piece honours the activist's advocacy for LGBTQ rights and his battle against censorship. It is also intended to encourage a sense of pride in those who are fighting against the social inequalities that still persist today.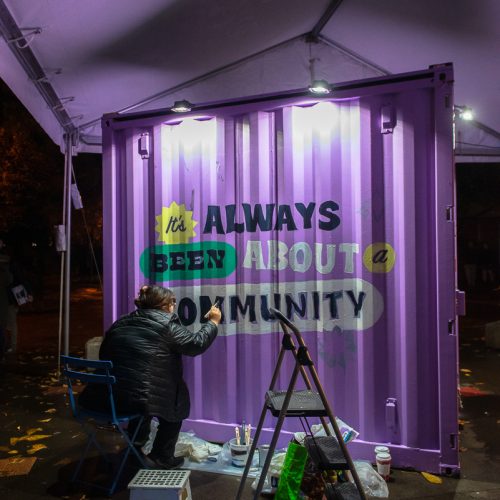 Spoken & Heard is a typographic mural inspired by the late Jim Deva. His fight against censorship brought together and created a safe space for the marginalized LGBTQ community. Through tough battles, Jim Deva stood his ground. This mural is a reminder of his perseverance and determination to fight for a future where all voices are spoken and heard.
Cynthia Tran Vo is a multidisciplinary designer and muralist based in West End, Vancouver.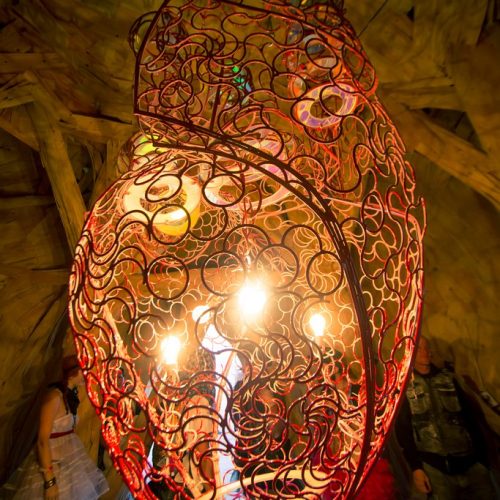 November 12, 2021 to November 30, 2021
Embrace was a 72' high wooden sculpture of two human figures hugging one another, which was built and then purposefully burned to the ground at Burning Man in 2014. Each chest cavity contained one anatomical human heart chandelier, lit in the fashion of a pulsing heartbeat. This is the heart of the Omega figure, built of steel by a team of artists in Portland, Oregon.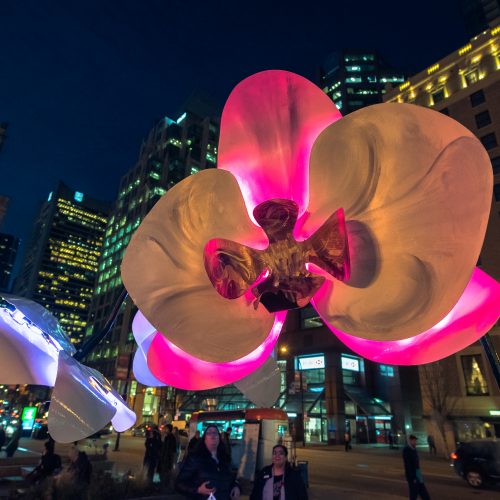 November 12, 2021 to November 30, 2021
Orchidelerium is a larger-than-life fantastical steel orchid plant, sprouting from the concrete and arcing over the heads of her viewers. Participants are invited to customize the sculpture's aesthetic to their whims using interactive touch pads linked via the plant's roots to the colourfully illuminated flowers above.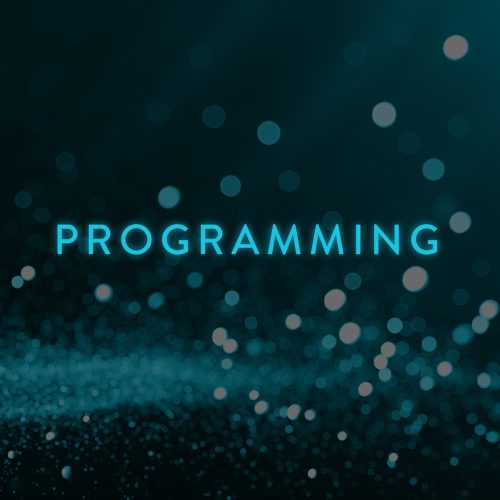 Programming at Jim Deva Plaza
DJ ICE B
Musician
Friday November 12, 7pm- 9pm
NZR Productions
Performers
Friday November 12, 7pm- 9pm
DJ Denise
Musician
Saturday November 13, 7pm- 9pm
Sam Chimes
Musician
Friday November 19, 7pm- 9pm
DJ Kenya
Musician
Saturday November 20, 7pm- 9pm
DJ Krista Mac
Musician
Friday November 26, 7pm- 9pm
Downtown
1055 Dunsmuir and 555 Burrard Street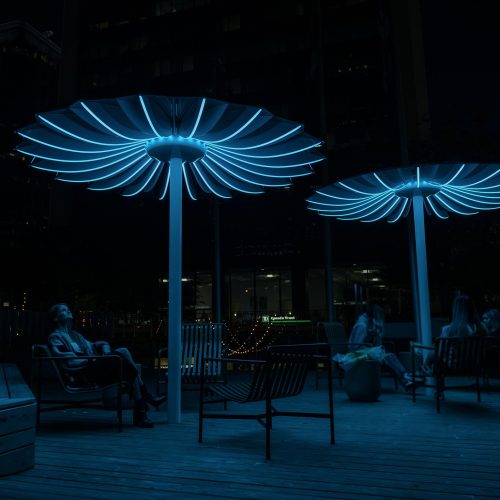 November 12, 2021 to November 30, 2021
'Parasol', are one-of-a-kind mushroom-like structures that fuse nature and innovative light design to reignite onlookers' sense of wonder. Each of the five, nine-foot-tall sculptures contains 40 fins to mimic the underbelly of a mushroom. Parasol at Bentall Centre will take on a new life when animated with colourful patterns that react to music providing an exceptional visual experience for visitors enjoying the patio in the evening.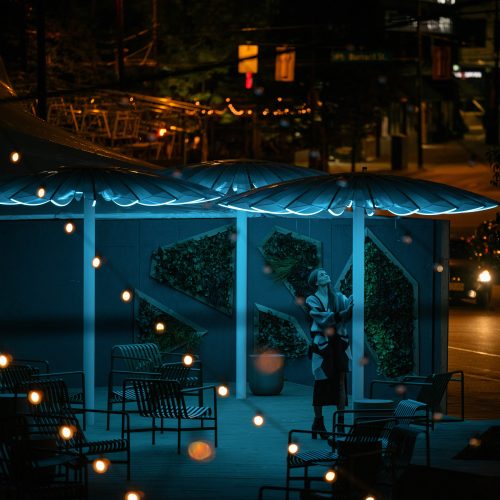 November 12, 2021 to November 30, 2021
Bentall Centre's 'Canopy Lights' consists of a 55 LED string light structure that will allow people to see their voice translated to light patterns creating an immersive light and sound experience to interact with the canopy in a whole new way.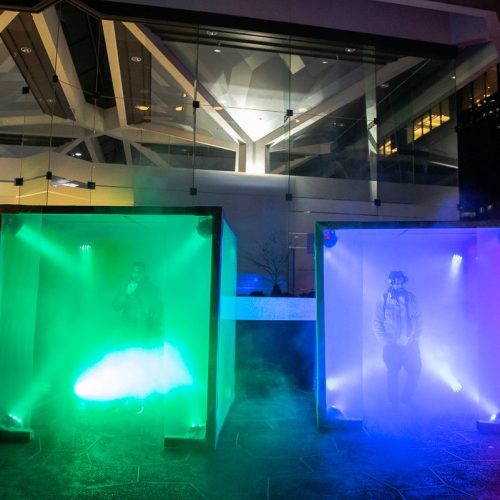 Located on Bentall Centre's Burrard Benches, 'Chromatic Blocks' invites guests to get lost in light and colour when physically immersing yourself inside the cubes to explore a stunning gradient visual.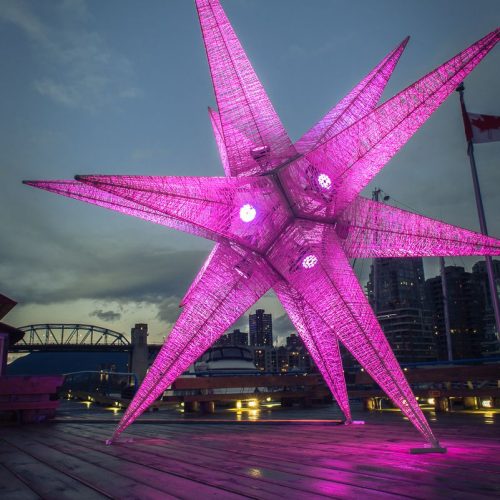 Granville Island Public Market Courtyard
November 12, 2021 to November 30, 2021
This 22-foot-high star is placed to be reflected in the False Creek water on three sides, and visible from the West End. Colours, that range from magenta to gold, are programmed to reflect and honour specials days and holidays. Lit up blue for Hanukah, red for Christmas and gold for New Years, returning to red for Lunar New Year, the many other colours are worth visiting time and time again, and if you are crossing from the West End to Granville Island via False Creek Ferries, just tell then to point their little boat in the direction of the star.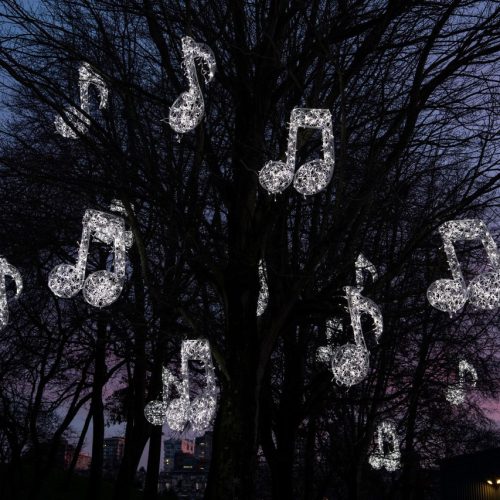 Ron Basford Park
November 12, 2021 to November 30, 2021
Just on the other side of Performance Works, boasting tree's full of musical notes, and a 14 feet star hanging over the water, installations here make a walk along the boardwalk around the Alder Bay waterfront quite delightful.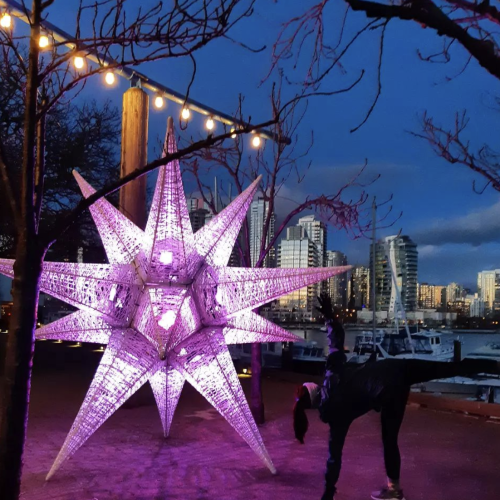 Granville Island Public Market Courtyard
November 12, 2021 to November 30, 2021
On the waterside of Ron Basford Park, visible from South False Creek, a 14 foot star hangs off the furthest point of land. Accessible from the Performance Works side, you will walk under trees full of musical notes, or walk along the Alder Bay's waterfront boardwalk.
Photo credit: @belleybreathes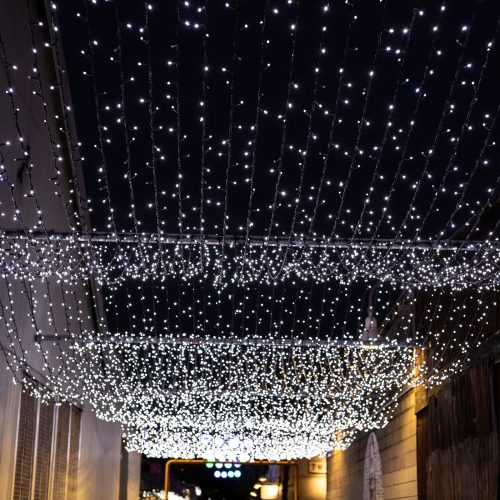 Between Railspur Alley and Cartwright Street
November 12, 2021 to November 30, 2021
Granville Island's wave of lights links the Artisan District's pedestrian-only Railspur Alley with Cartwright Street. Tucked in between Search & Rescue Denim and the Arts Club Theatre's woodwork & prop shop, visitors can expect to be bathed in light from an evening sky filled with thousands of lights.