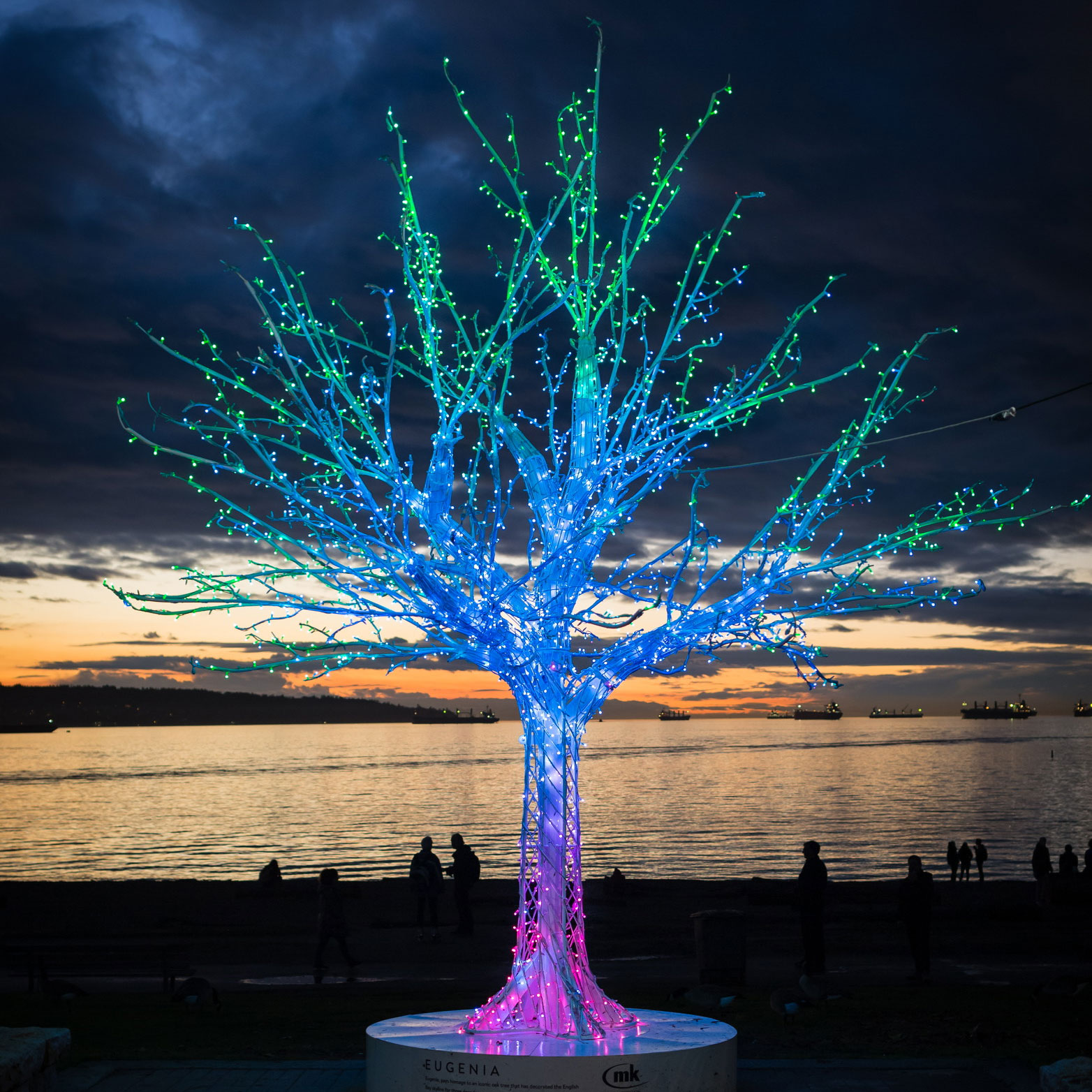 Lumière to Set the West End Aglow this November
An annual event inspired by light, art, and creative expression; Lumière returns this November to the West End.
Vancouver, BC (October 13, 2020): Now in its seventh year, Lumière will light up the West End once again in spectacular fashion.
Lumière Vancouver will showcase 7 amazing interactive art installations adding sparkle and excitement to two iconic sites: English Bay and Jim Deva Plaza.
Returning to the foot of Denman Street is our local favourite, "Davie", a stunning, illuminated 24-foot-tall grizzly bear. Davie joins Luna, Stanley and Eugenia, a collection of nature-inspired light sculptures at English Bay that pay homage to British Columbia's wildlife community.
Lumière is also delighted to be bringing a new light installation to Vancouver this year, Prismatica, created by RAW Design. Prismatica is made up of countless colourful giant prisms where visitors can walk through and observe city life in every colour of the spectrum.
"Lumière is again pleased to be able to bring stunning light and art to the West End. The lighting displays are beloved by locals and visitors alike, and we hope Lumière will add a bit of glow to the dark winter season as the year draws to a close" says Stephen Regan, Executive Director of the West End BIA.
Throughout the month of November, special Lumière activities will also link the West End commercial streets, creating a fun and festive atmosphere that can be safely enjoyed by individuals, families, and small bubble groups of friends.
Lumière Vancouver 2020 runs from November 5 – 30, with the illuminated installation best viewed after sunset. The extension of the event dates this year has been put in place to ensure that visitors can enjoy the artwork without creating a crowd situation, therefore allowing for proper social-distancing and COVID-19 precautions.
Select installations will remain for the balance of the winter season to be enjoyed nightly. For more information, please visit lumiereyvr.com.
Lumière Vancouver's 2020 event partners are West End BIA, Heritage Canada, Global BC, Rock 101, CFOX MK Illumination, DLA Piper, Stanley Park Brewing, Pacific Northern Developments and Wesgroup.
Lighting Partners this year include MK Illumination.
Images from Lumière Vancouver 2019:
https://drive.google.com/drive/folders/1DwT6pqQyUkOhoZMpeaHiyuqhaowJcNdX?usp=sharing
Media Contact:
Kelsey Malden
250.809.9262
[email protected]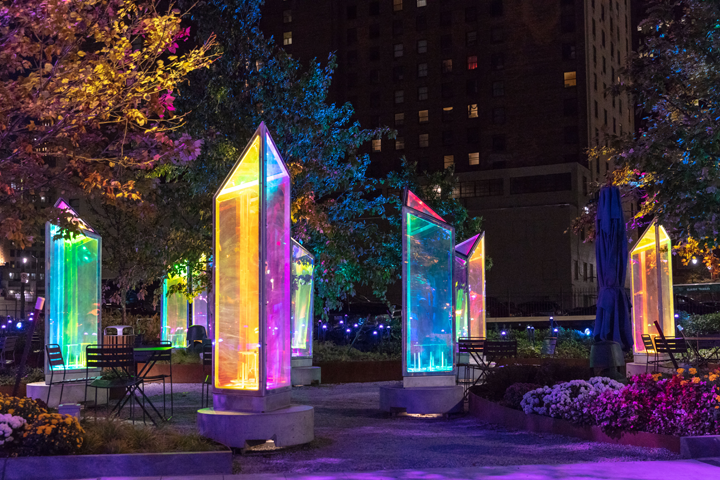 Lumière illuminera le West End en novembre
Un événement annuel inspiré par la lumière, l'art et l'expression créative, Lumière aura lieu de nouveau en novembre dans le West End.
Vancouver, C.-B. (8 octobre 2020) : Entamant maintenant sa septième année, Lumière illuminera de nouveau le West End de façon spectaculaire.
Lumière Vancouver mettra en vedette sept installations d'art interactives, ajoutant de l'éclat et de l'excitation à deux sites emblématiques : English Bay et la Plaza Jim Deva.
Notre installation locale préférée, « Davie », un magnifique grizzly illuminé de 24 pieds de hauteur, se trouvera de nouveau au bout de la rue Denman. Davie se joint à Luna, Stanley et Eugenia, une collection de sculptures illuminées inspirées par la nature, situées à English Bay, et qui rendent hommage à la faune de la Colombie-Britannique.
Lumière est également très heureux de dévoiler une nouvelle installation lumineuse à Vancouver cette année, Prismatica, créée par RAW Design. Prismatica se compose d'innombrables prismes colorés géants. Les visiteurs peuvent marcher à l'intérieur et observer la vie citadine dans toutes les couleurs de l'arc-en-ciel.
« Lumière est ravi de pouvoir à nouveau offrir de magnifiques installations artistiques lumineuses dans le West End. Les habitants locaux et les visiteurs adorent les installations lumineuses, et nous espérons que Lumière ajoutera un peu d'éclat dans la noirceur de l'hiver alors que l'année se termine », explique Stephen Regan, directeur exécutif de West End BIA.
Pendant tout le mois de novembre, Lumière offrira des activités spéciales qui connecteront les artères commerciales du West End, créant ainsi une atmosphère amusante et festive qui sera sécuritaire pour les individus seuls, les familles et les petits groupes d'amis.
Lumière Vancouver 2020 se déroulera du 5 au 30 novembre, et il est préférable de visiter les installations lumineuses après le coucher du soleil. Les dates de l'événement ont été prolongées cette année afin de permettre aux visiteurs de profiter des installations sans créer un effet de foule, assurant ainsi que la distanciation sociale et les précautions relatives à la COVID-19 soient respectées.
Certaines installations demeureront en place pour le reste de la saison hivernale et pourront être visitées tous les soirs. Pour plus d'informations, veuillez consulter le lumiereyvr.com.
Les partenaires de l'édition 2020 de Lumière Vancouver sont West End BIA, Héritage Canada, Global C.-B., DLA Piper, Stanley Park Brewing et Wesgroup.
Les partenaires pour les installations lumineuses de cette année comprennent MK Illumination.
Personne-ressource pour les médias :
Kelsey Malden
250.809.9262
[email protected]